UPDATE: 39% Now Blame Obama for Economy; Unseen Jobless Bigger Problem than We Think
While most U.S. voters still blame the Bush Administration for the nation's economic problems, a growing number are inclined to blame President Barack Obama.

A new Rasmussen Reports national telephone survey finds that 39% of voters now say the country's economic problems are caused more by the policies Obama has put in place. That's a 12-point jump from a month ago.
While unemployment rose by one half of a percent in May, figures do not include underemployed and those who have simply stopped looking for jobs. Add in those people and the rate increases to 16.4% or put in other terms, one in every six prople in looking for a job.
During May unemployment was up in 48 of Obama's 57 states.
In Motown, employment woes are plaguing the Detroit Tigers. Attendance is down by 10,000 a game even though the team is leading its division. It will be interesting to see how many teams and sports are affected by the downturn.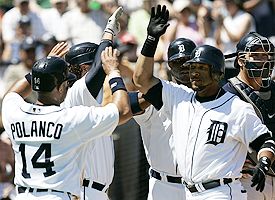 A winning season has not translated into filled seats.