"I know I did everything I could to help her."
The real "War on Women" has been waged in the Kennedy Family for at least three generations.
It started with the Patriarch, Joseph Kennedy, who bedded Gloria Swanson and other Hollywood stars and starlets in the 1930s and 40s. Jack and Bobby Kennedy's extramarital affairs were well known. Ted Kennedy was perhaps the crassest. He drove his wife, Joan, to alcoholism and I don't think murder – or at least negligent homicide – is too strong an accusation regarding the death of Mary Jo Kopechne in 1969. Three generations of Kennedy men with a history of infidility, molestation, rape and worse.
Joe and Rose Kennedy had their daughter Rosemary lobotomized in 1941 and institutionalized from 1949 until her death in 2005 because she was an embarrassemnt to America's "Royal Family." Compare that to the Palins accpectance of Trigg and unconditional love for their special needs son.
Kennedy men have been responsible for the deaths of a number of women – Kopechne, possibly Marilyn Monroe and last week Mary Kennedy. 
Once again – at least in their opinion – a Kennedy male wasn't responsible for the outcome, even though he was divorcing his wife, having a series of court orders issued against her (including one issued a few days before Mother's Day) and working to bankrupt her, all while having an affair with  actress Cheryl Hines even though his divorce wasn't final.
Don't blame Bobby.

Robert F. Kennedy Jr. shamelessly told a crowd of mourners at tragic wife Mary Richardson Kennedy's funeral yesterday that her suicide was not his fault.

"I know I did everything I could to help her," Kennedy said in his eulogy at St. Patrick Church in Bedford, where attendees included Chevy Chase, Larry David, Glenn Close and Susan Sarandon.

Kennedy, who was raspy and appeared tired, told the crowd that someone told him not to blame himself for Mary's shocking suicide last week.

"The day before she died, she called me and said, 'You know me better than anyone in the world,' " he said. "She said, 'I was such a good girl.' I said, 'I know you are and you still are.' She really fought so hard. She had these demons, and she didn't deserve it."

Mary, 52, hanged herself Wednesday in the barn of her Westchester mansion.

Kennedy spent most of his eulogy lavishing praise on his wife — although he noted that she harbored a grudge against him.
Yet, liberals yearn for a return to "Camelot" with a Kennedy leading the way. And, there's never a word of criticism from NOW or other feminist organizations.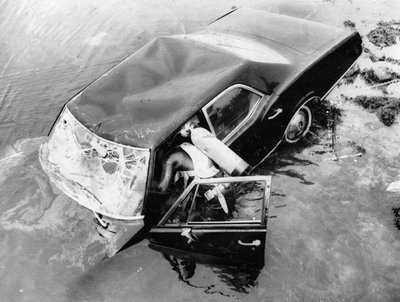 Three generations of War on Women.