Mizzou Spending $230/Student on PR
We talk about how the left ruins everything. Nowhere is that more evident than in public education – from elementary schools through universities. It's especially true at the university level as free speech and the exchange of ideas is forbidden, especially if any ideas expressed aren't in lockstep with the politically correct left.
No major public university has faced greater problems because of its image than the University of Missouri. Things were going smoothly at Mizzou until the fall of 2015. Mizzou wasn't known for producing rocket scientists. But, it had no problem attracting a new crop of freshmen and transfer students every fall and filling dorms. Mizzou wasn't doing well in the Southeast Conference athletically, but then Mizzou never belonged in the SEC. Historically it was in the middle of the Big 12 pack.
The fall of 2015 changed everything as the Black Lives Matter thugs (with the aid of sympathetic white leftists) shut down the campus. It made the national news for a few weeks. Militant blacks screamed "racism" without offering any proof of racism. The football team joined the revolt and threatened not to play. A non-tenured communications professor was filmed preventing a student journalist from reporting on the protests. The protesters demanded the resignation of the university president. MIZZOU became the poster school for everything that's wrong with today's universities.
Prospective working-class parents didn't like what they saw: a campus controlled by black militants, where free speech didn't exist. They were concerned for their children's safety if the attended MIZZOU. As a result, incoming freshmen enrollment plummeted by more than a third. Seven dorms had to be shuttered and there were major layoffs. Mizzou still hasn't recovered and its enrollment has continued to drop..
The University of Missouri has signed a $1.3million contract with a public relations firm to repair the lingering negative effects of race-based protests on campus in the fall of 2015.

Freshman enrollment dropped by more than 33 percent in the two years since protests based on allegations of racism on campus and an apathetic administration drew national media attention.

In the face of a $30million revenue hole, the school has laid off about 350 employees as it scrambles to rebuild its image – at a hefty cost.

At the firm's recommendation Mizzou has spent $1.8million on marketing efforts – about $230 per student.

A spokesperson for the university said that it's been promised a 14 percent bump in enrollment for Fall 2018.

That bump would put the freshman class count at about 4,700, on par with the number from Fall 2016, which was 23 percent lower than the 6,200 count in 2015, before the protests.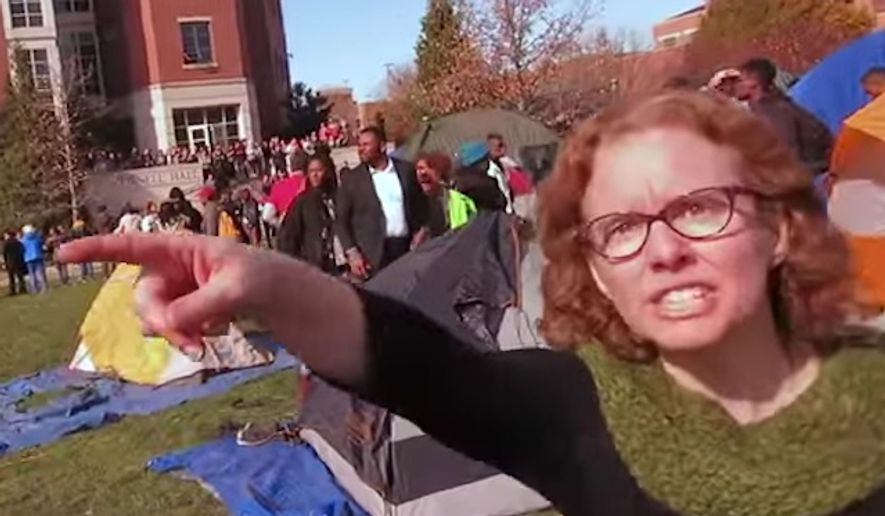 Communications professor Melissa Click became the face of Mizzou. It's hard to imagine an uglier, more offensive face.
Not something most middle class whites want to expose their children to.
Hat tip: Daily Mail (UK)