Feminists Aren't Really Feminists
What ?
That's right, they are leftists who just happen to be female.
That's why they won't speak up about Islam even thought it subjugates women, treats them like animals, practices female genital mutation, dresses them like refugees form the 7th century, etc., etc., etc.
It's also why they support transgendered women in athletic competition. Women fought hard to get Title IX so they could have greater opportunities to compete in athletics and other pursuits. Now 17 states permit males who claim to be females to participate on traditional girls high school athletic teams – volleyball, softball, track, even basketball and soccer (which typically have boys teams). Since men – even those who claim to be women – are stronger and more athletic, that means some girls will either get cut from the team or get little playing time.
How will this impact women's events in the Olympics or universities awarding a scholarship to a transgendered man over a women because s(he) will be more dominant on the school's women's basketball or volleyball team? Feminists really don't seem to care.
Two recent events:
Across the U.S. and in many places abroad, transgender athletes are breaking barriers in high school, college and pro sports and being embraced by teammates and fans. But resentments can still flare when transgender women start winning and dominating their sport.

Exhibit A is a recent public exchange involving tennis great Martina Navratilova, who came out as a lesbian in 1981 and is a longtime gay-rights activist. She now stands accused of being "transphobic" after asserting that many transgender women — even if they've undergone hormone treatment — have an unfair advantage over other female competitors.
What Navratilova did was just tell the truth – that men are stronger and more athletic than women and have an unfair advantage when competing against women. Yet, no one from the so-called feminist movement is standing up for Naratilova even though she is standing up for women in sports. It's been said that the William sisters, who have dominated women's for the past decade, wouldn't rank among the top 100 male tennis players worldwide.
The second was Connecticut girls track. Being a progressive state Connecticut (of course) permits boys who pose as girls to participate in girls sports.
NEW HAVEN, Conn. – Andraya Yearwood hears the comments, usually from adults and usually not to her face.

She shouldn't be running, they say, not against girls.

Yearwood, a 17-year-old junior at Cromwell High School, is one of two transgender high school sprinters in Connecticut, transitioning to female.

She recently finished second in the 55-meter dash at the state open indoor track championships. The winner, Terry Miller of Bloomfield High, is also transgender and set a girls state indoor record of 6.95 seconds. Yearwood finished in 7.01 seconds and the third-place competitor, who is not transgender, finished in 7.23 seconds.

Miller and Yearwood also topped the 100-meter state outdoor championships last year, and Miller won the 300 indoors this season.

Critics say their gender identity amounts to an unfair advantage, expressing a familiar argument in a complex debate for transgender athletes as they break barriers across sports around the world from high school to the pros.

"I have learned a lot about myself and about other people through this transition. I always try to focus most on all of the positive encouragement that I have received from family, friends, and supporters," Yearwood said. "I use the negativity to fuel myself to run faster."  One of their competitors, Selina Soule, says the issue is about fairness on the track with wider implications. The Glastonbury High School junior finished eighth in the 55, missing out on qualifying for the New England regionals by two spots.

Soule believes that had Miller and Yearwood not run, she would be on her way to race in Boston in front of more college coaches.

"We all know the outcome of the race before it even starts; it's demoralizing," she said. "I fully support and am happy for these athletes for being true to themselves. They should have the right to express themselves in school, but athletics have always had extra rules to keep the competition fair."
Hat tip:  NBC News and Fox News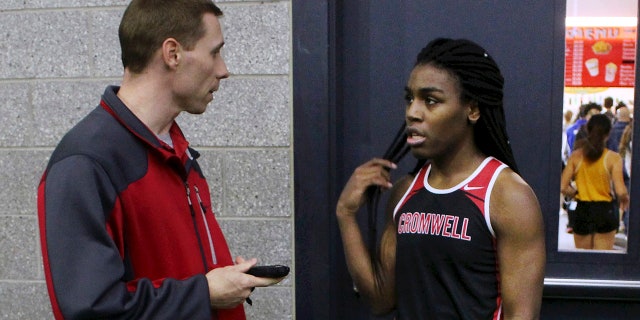 There was a time, not that long ago, when boys/men would have been ashamed to compete as women, but that was back in the dark days of bigotry when up was up, hot was hot and wet was really wet … and girls really were girls.