Why Conservatives Celebrate when the MSM Dies
Few things make conservatives happier than reading headlines like this:
CNN's Ratings Collapse in 2019
McClatchy – Publisher of 29 Newspapers Teeters Near Bankruptcy
Warnermedia Ratchets Up Bloodbath with Big Firings
New York Daily News Layoffs Ax Half the Newsroom Staff
It's not like conservatives particularly want to see people lose their jobs. Rather conservatives relish full employment. But, when companies produce products no one wants and are blatantly dishonest, it's time for them to go.
Since Watergate the media has transitioned from biased people who tried to be somewhat objective in reporting the news to propaganda organs of the far-left. Prior to Watergate, newspapers and network news shows made an effort (admittedly often lame) to separate objective news from opinion. If an article wasn't a signed opinion piece, the writer was instructed to stick to the 5 W's (who, what, when, where and why) along with how.
With Watergate (and the lionization of Woodward and Bernstein) , all that changed as left-wing activists crammed journalism schools. In 2020 the real journalists are either dead or retired and the leftist crazies are not only writing the news, but managing the media. Media bias has been replaced by outright dishonesty
Media coverage of impeachment has been 100% negative. In fact, it's fair to ask if the impeachment trial would ever have happened had the media not constantly been pushing for it. The American public really doesn't care and the ratings prove it.
Then there's this editorial from Sunday's Los Angeles Times:
Not because Trump is a Republican. Not because of his conservative policies. Not as a way to nullify the outcome of the 2016 election. But because he engaged in high crimes and misdemeanors of exactly the sort the founders had in mind when they created the impeachment process in the U.S. Constitution.

The details of those crimes have been laid out a thousand times, but here they are again: Congress voted to give $391 million to Ukraine, an ally that was at war, defending itself against Russia. But Trump withheld that money in a clear violation — an illegal violation — of Congress' express wishes. He did so not because he had foreign policy disagreements with Congress, but because he hoped to extort from Ukraine's president what he called "a favor" in return for the money — the announcement of an investigation into groundless accusations against former Vice President Joe Biden that he believed could be useful to him in winning reelection.

In other words, he hijacked national security and foreign policy to induce Ukraine to take actions to smear a prospective political opponent. He abused the power of his office to benefit himself personally. Then, as the second article of impeachment makes clear, he sought to stonewall the investigation by refusing to release documents and ordering his subordinates not to testify in the House inquiry.

It may not come as a surprise to many readers that we support the ultimate punishment for this egregious abuse of power.
The editorial begins with a blatant lie. "Not because Trump is a Republican. Not because of his conservative policies. Not as a way to nullify the outcome of the 2016 election." The increasing likelihood that President Trump will win the 2020 election is the very reason this editorial was written.
The goal is obvious – not only negate  the result of the 2016 election, but also of future elections if the people's choice doesn't mesh with left-wing objectives.
Where was the LA Times – and the rest of the media – during the eight years when Barack Obama was abusing presidential power (e.g. DACA) for eight years? Where were the calls for impeachment?
When there's a poorly-produced product that very few want, it only stands to reason that the businesses will fail and the dishonest people who produce it will lose their jobs. There's no reason to be unhappy about it.
Hat tip: Los Angeles Times and www.bigonoreport.com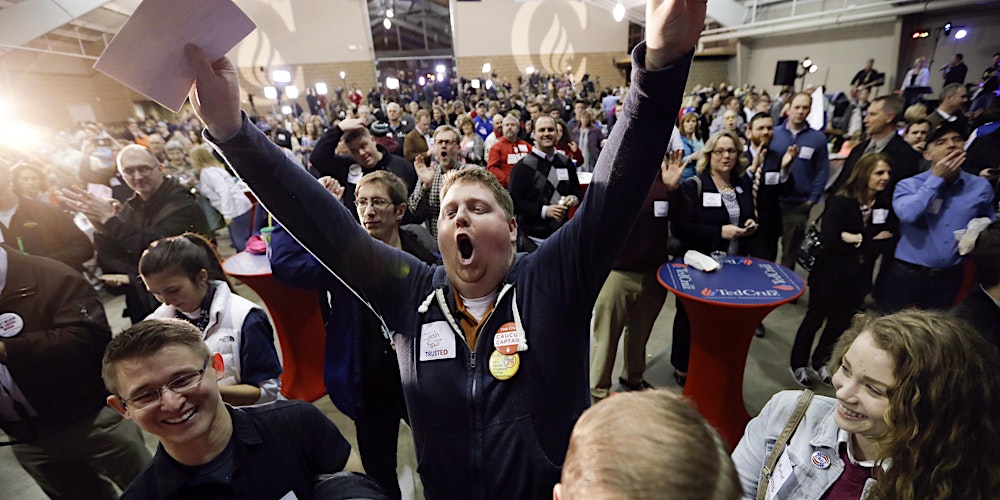 Iowa caucuses – be glad you're not there tonight.