Where Is the Liberal Outrage?
The media has been going on non-stop about George Floyd, a black man who was killed in a scuffle with Minneapolis Police and  shooting death of Ahmaud Arbery in Georgia.
Just as with the shooting of Michael Brown a few years ago the media has whipped up a frenzy that has ended with rioting and looting.
Yet, when the roles are reversed, as they frequently are, the media either remains totally silent or buries the news as quickly as possible. A couple of cases in point:
Shortly after Michael Brown was killed, a black activist murdered five law enforcement officers in Dallas. The media shut coverage as quickly as possible. There were no interviews with the widows of the slain officers talking about the effect of the loss of husbands and fathers had on the families. The NFL stopped the Cowboys from honoring the slain officers with a decal on players' helmets. The one organization that did honor the slain officers was the Dallas stars who had decals of the slain officers badges on their helmets throughout the season and invited the players families to participate in pre-game "puck-dropping ceremonies at five games so the Stars and its fans could honor the slain officers.
Then there was  Paul Marino, 86, and Lidia Marino, 85, both from Elkton, Maryland who were shot and killed after visiting a military cemetery in Delaware last month. They were murdered by a black man with a scoped rifle. This murder received scant coverage outside of the Delaware/Maryland area.
Blacks are nine times more likely to murder whites than vice versa. 43% of law enforcement officers who are murdered are killed by blacks (more than three times the percentage of blacks in the US).
Something the media doesn't cover is black-on-black crime. According to the FBI 93% of all blacks murdered are killed by other blacks. This year Chicago had the worst Memorial Day weekend in terms of shootings and shooting deaths in five years. Where is the media coverage and black protests when gang-bangers murder an innocent five year old who is simply sitting on his front porch eating ice cream?
We all know the answer: It doesn't fit the liberal agenda.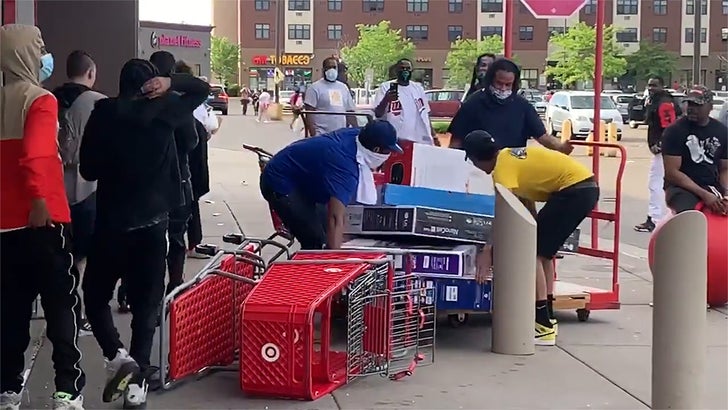 Looting in Minneapolis.
Family of slain Dallas officer honored in pre-game ceremony.