America's Support for Sports Plummets
This should come as no surprise. We all know Brad Plitt is an a-hole. But when you attend a Brad Plitt movie, you are not subjected to his far-left opinions.
For decades Americans enjoyed sports as a form of entertainment. Now that has changed. Many professional athletes feel they have a "platform" to preach to the American public, including semi-literates with IQs far lower than room temperature.
America was already starting to fall out of love with professional sports even before Black Lives Matter took center stage. Players like the Yankees Lou Gerhig (I'm the luckiest man in the world), the Cubs Ernie Banks (Let's play two) and the Tigers Al Kaline (I'm not worth $100,000) have been replaced by people like the Rays Blake Snell (I want mine).
In 2020 every major sport (except golf) is bowing to political correctness and the Black Lives Matter movement. There's everything from messaging on uniforms, playing surfaces and scoreboards to subjecting fans to politically motivated rants that are anti-American and anti-police.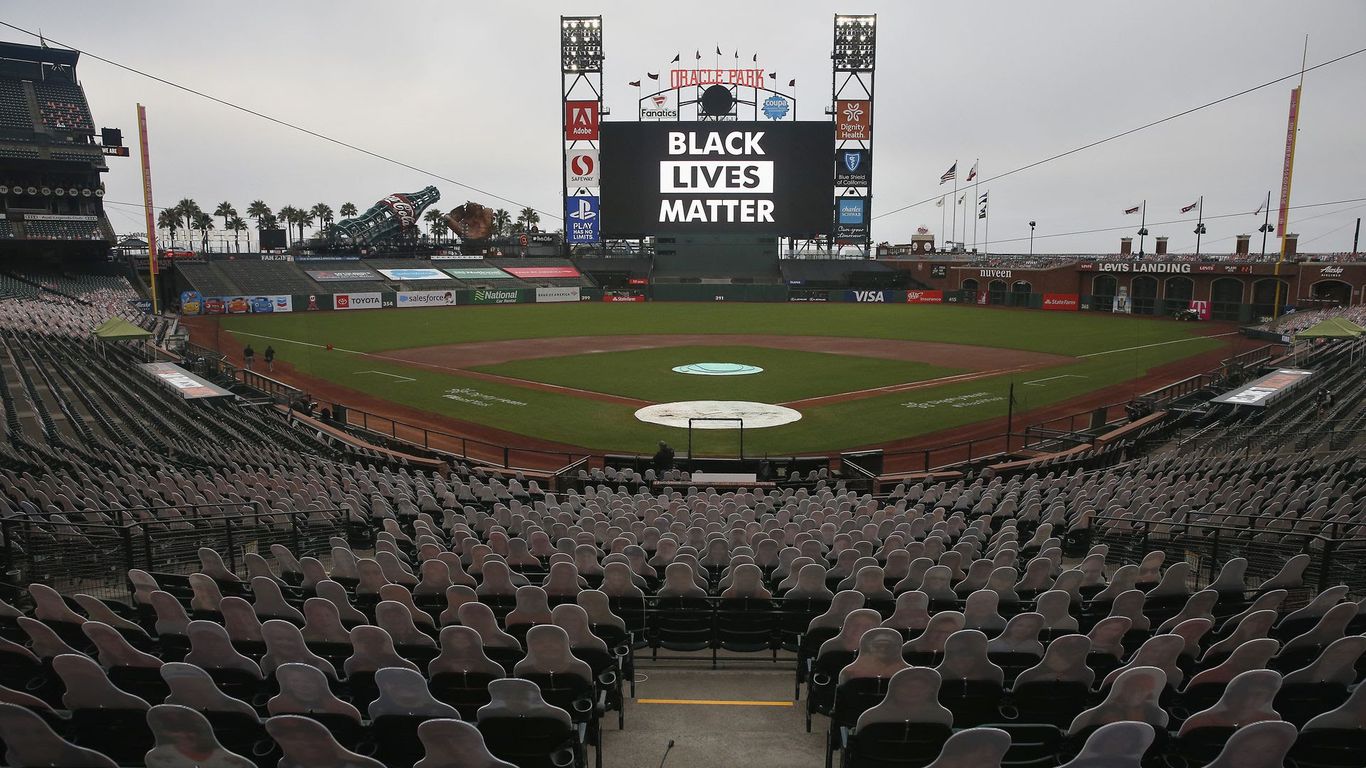 The jokes virtually write themselves.
Sports already are suffering. Since they returned to play NBA, MLB and NHL ratings are down substantially. Fans simply don't want to be told how racist they and their country are and how police brutalize blacks every time they watch a game.
Gallup just released the results of a poll and the results should be an eye opener for the sports world.
More people have a negative view of pro sports than a positive one, as public support for America's athletics industry plummeted amid the coronavirus pandemic and athletes' backing of the Black Lives Matter movement, a new survey released Monday reveals.

Americans who have a positive view of sports dropped from 45 percent positive in August 2019 to 30 percent last month, the Gallup poll found.

The number of citizens who had a negative view shot up from 25 percent last year to 40 percent in August 2020.

That's a shift of 30 points — from a plus 20 percent positive rating to a minus 10 percent negative rating.

The stunning drop comes at a time when sports such as baseball have shortened their season because of the pandemic.

Meanwhile, athletes have walked out of games, kneeled during the national anthem or wore Black Lives Matters shirts to protest racial injustice following the deaths of unarmed black men in police custody.

President Trump has slammed the political protests by professional athletes.

"Sports has been acutely affected by the twin events steering news and culture in 2020: the pandemic and the renewed movement for racial justice. The sports industry's relationship with fans has been disrupted by the need to shrink its seasons and schedules and play to empty venues as a means of keeping fans and players safe," Gallup said in its analysis of the findings.

"At the same time, the greater social and political activism of players and, in some cases now, coaching staffs and entire leagues appears to have turned off Americans who disagree with their messages or the way they express them. The net effect at this point has been negative for the industry's image."

Respondents who identified as Republicans soured the most on sports — from a plus positive 11 percent rating to a negative 35 percent. That's a shift of 46 points in one year.

The positive-negative ratio also fell 36 points among citizens who identify as independent.

But support nosedived across the board:

— Backing of sports shifted 34 points to the negative among women — from a plus 21 points in 2019 to a minus 13 points.

— Among men, views of sports went from plus 17 points positive to 7 points negative — a shift of 24 points.

— Among whites, the view of sports went from plus 4 points positive to 22 points negative — a shift of 26 points.

— The number of non-whites who view sports positively sank from plus 51 percentage points positive to 16 points favorable.

— Age was a big factor. The positive view of sports dimmed from 25 percentage points positive to 19 points negative in one year among those ages 35 to 54. Among older voters, support diminished from slightly positive to 23 points negative.

"While it's not clear how much the various challenges and controversies swirling around the industry are each responsible for its slide in popularity, it is notable that sports has lost more support from Republicans and independents than from Democrats. In fact, Democrats' view of the sports industry has not changed significantly in the past year, while Republicans' has slipped from a +11 net-positive score in 2019 to a net -35 today, and independents' from +26 to -10," Gallup said.

Other industries showed growing support.

Amid the COVID-19 outbreak, the number of Americans who viewed the health care industry positively jumped from 38 percent to 51 percent.

The farming/agricultural sector was the most popular — with support jumping from 58 percent to 69 percent positive.

The Gallup survey conducted from July 30 to Aug. 12 queried 1,031 adults, with at least 550 opining on a particular industry. It has a margin of error of plus or minus 5 percentage points.
Hat tip: The Gallup Organization via the New York Post