It's Tough Being a Cop; even at the Top
Add Rochester, NY police chief La'Ron Singletary and Dallas  Chief Renee Hall to the list of major city police chiefs that have resigned/been fired since George Floyd died in police custody Memorial Day weekend. Other police chiefs who are gone since Floyd's death on Memorial Day Weekend include Seattle's Carmen Best – who like Singletary and Hall – is black, Atlanta's Erica Shields and Louisville's Steve Conrad. Conrad, Shields and Singletary have experienced riots because blacks have died as a result of actions by their officers. Best resigned because she felt Seattle's mayor and city council weren't providing the support she needed.
What's unusual about Singletary's resignation is the entire Rochester Police command staff resigned along with him.
Rochester Police Chief La'Ron Singletary said in a statement that he was honored to serve the city in upstate New York for 20 years and commended his staff. However, he said the protests and criticism of his handling of the investigation into the March 23 incident "are an attempt to destroy my character and integrity."

"As a man of integrity, I will not sit idly by while outside entities attempt to destroy my character," he said in a statement. "The members of the Rochester Police Department and the Greater Rochester Community know my reputation and know what I stand for."

His retirement will be effective Sept. 29, according to Rochester City Council President Loretta Scott. Scott told ABC News as of now there is no blueprint for how the city moves forward following the retirements of the command staff.
Let's compare policing compared to where it was 25 years ago:
Today many of the people who die in police custody are high on drugs, most have criminal records
Police officers are the one profession that have all their actions recorded on camera
We have dishonest news organizations like CNN (and there is no way to describe CNN other than dishonest) where any time a black person dies in police custody or a white person kills a black, it's headline news. Police offers being killed in the line of duty and whites killed by blacks go unreported. Heck, CNN won't even cover blacks killing blacks
Mayors and city councils usually refuse to support police
Leftist district attorneys refuse to charge rioters
Officers are pelted with rocks, bottles and anything else demonstrators can find
Even professional athletes and sports leagues support organizations that oppose the police
Police officers are called on to make split second decisions. As Donald Trump said in Kenosha, when a police officer makes a major wrong decision, two really bad things happen: the officer loses his/her life or someone else loses their life and the officer is likely charged with a felony.
Hat tip: ABC News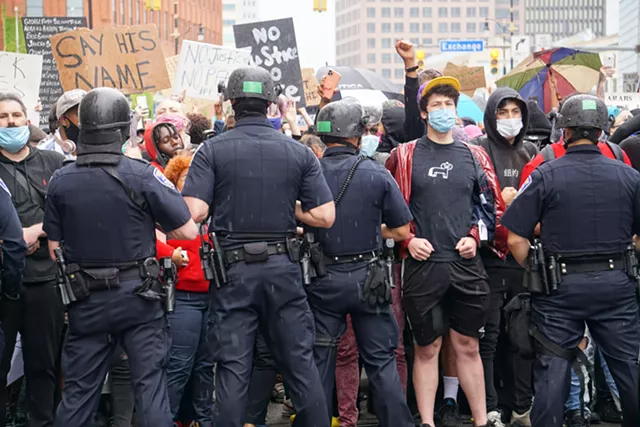 How would you like to face this for 100 consecutive days?