CBS Documentary: Only 30% of Ukraine Aid Makes It
Someone at CBS News will likely lose their job over this. In the first minute of this CBS documentary a Ukranian admits that only about 30% of the weapons sent to the Ukraine reaches the front lines. Approximately 7o% is diverted and sold by arms dealers to other countries and even terrorist groups around the world.
This comes as no surprise to anyone who has been paying attention. Ukraine is one of the most corrupt countries in Europe and all the world. That's why the children of US politicians from Ukranian companies to buy influence in the United States.
The US government and its media allies have propagandized for Ukraine since the Russian invasion. They have lionized Ukrainian president Volodymyr Zelenskyy as Ukraine's George Washington even though Zelenskyy has imprisoned members of opposition parties and shuttered opposition media.
Congresswoman Loren Boebert posted this tweet about the CBS documentary: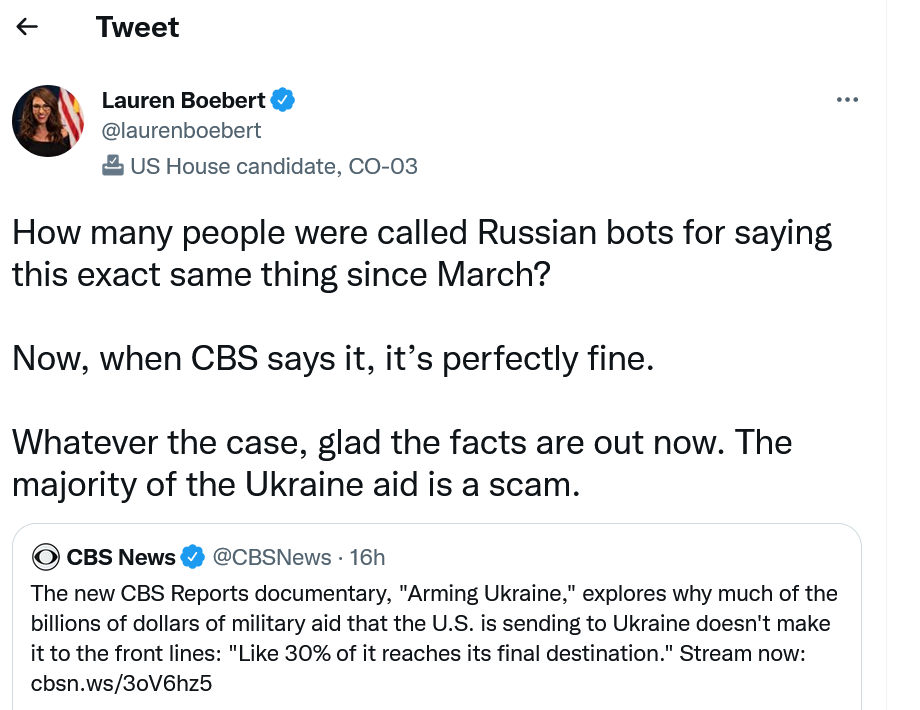 Again, this admission comes in the very first minute of the documentary.
Just remember:
Defending Ukraine's border is honorable; Defending the US southern border is racist.
Ukrainian nationalism is patriotic; US nationalism is part of white supremacy and must be eradicated
Ukrainian flags are cool; US flags are a symbol of bigotry and oppression
Hat tip: Lauren Boebert